Visit the game:
www.mondocuisto.com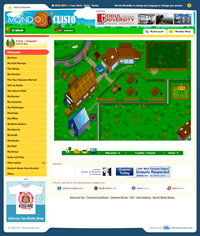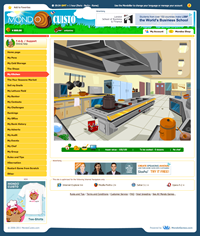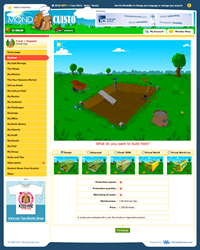 Game Overview
MondoCuisto is a FREE snail farm browser game. Each player creates and manages a farm where different species of edible snails are bred. Once the snails reach maturity, they are cooked inside the farm kitchen and sold to the finest restaurants.

As far as we know this is the only browser game of the kind on the Internet. It is inspired by the French tradition of cooking land snails and serving them as an appetizer in restaurants as a special dish called "Escargot".
Gameplay
The main objective in MondoCuisto is to create and manage the best farm, while producing snails of supreme quality. There are several shops outside the farm, providing the basics to start the game – baby snails, snail food and cooking ingredients. But after the first steps in the game, the player can produce most of these things inside the farm.

There are several species of snails which are bred in special pens within the farm. What really matters in the game is the final quality of the snails, which is formed by the food category, pens, cooking ingredients and the chef.
Cooking
Once the snails reach maturity they are gathered and transferred to the farm kitchen. Inside they are cooked by the chef, who is the most important figure in the game. In order to produce snails of supreme quality, the chef should be highly qualified and the cooking ingredients must be of the best category.

When the snails have been cooked, they are sold to restaurants and other customers. Many competitions and contests allow the enthusiastic cooks of the whole world to compete.
Quick Facts
FREE GAME, NO INSTALLATION NEEDED.
One of a kind browser game.
Different species of edible snails available.
Exceptional game experience.
Exclusive and dynamic gameplay.
Possibility for group gaming.
Many missions, challenges and contests.
Visit the game: